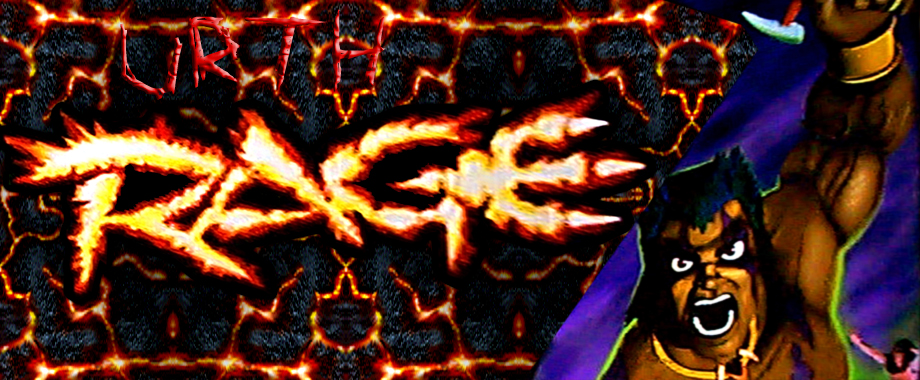 Back To Portal
Home
Games
MAME4Rage2
Glitches
Downloads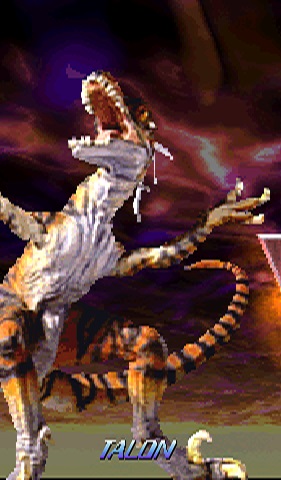 Name: Talon
Gender: Male
God of: Survival
Avatar: Keena
Side: Virtuous Beasts
Turf: Keena's Cove
Color: Orange with Black Stripes
Worshiper Clothing: N/A
Talon is a playable character in Primal Rage 2. He returns from his role in Primal Rage 1. Just like in Primal Rage 1, he is one of the fastest characters in the game. He has brand new normals that he can do however some of his normals are actually glitched, especially his slide on ducking LP which goes almost full screen compared to the slide he had in the first game. Talon is missing some of his iconic moves such as Frantic Fury and even doesn't have an overhead attack even though the sprites exist for it, it was going to be his original HP from Primal Rage 1. Talon is also the only returning character to not get a new render for the character select screen, instead using blown up sprites of his idle and winning animation for the character select screen instead.
Win Quotes:
Primal Rage 2 has win quotes for each character. These are all of Talon's win quotes:
I'm smarter, I'm for you faster, A shame
I'll rule the world yet!
I like it fast and furious!
Nice to meet you I'll call you dinner.
I like the way flesh sticks to my claws.
Bite me. No, I bite you instead.
Special Moves:
Symbol Legend:
HQ: Button 1 | HF: Button 2 | HP: Button 3 | LQ: Button 4 | LF: Button 5 | LP: Button 6 | U: Up | F: Forwards | D: Down | B: Backwards
So for direction UF means "Up-Forwards", DB mean "Down-Backwards", etc.
Generic
Moves shared across all of the characters in Primal Rage 2.
Hyper Attack: HP+LP
Knockdown move, tosses the opponent into the air.
Taunt: Press Start
Causes the Rage meter to fully charge.
Grab Worshipper: D,D HF+LQ
Grab a worshipper to eat. Fully charges the Rage meter.
Grab Opponent: F+HP (When Close to Opponent)
A throw, this cannot be blocked.
Overhead Smack F+LP (When Close to Opponent)
An overhead attack used on an opponent blocking while ducking.
Big Jump: Charge D, U (Can be used in all jumping directions)
A big jump like in Primal Rage 1.
Rage Morphs
These are the Rage morphs that a character can use when the Rage meter is full.
Rage Morph A: HQ+HF+HP
Rage Morph B: LQ+LF+LP
Rage Morph C: D+HQ+HF+HP
Rage Morph D: D+LQ+LF+LP
Character Specific:
These are the moves unique to Talon.
Run, Pounce, and Flip: D, DF, F, High
Talon runs towards his opponent at fast speeds when he connects with them he will climb on top of there body hitting them three times before jumping very far away back.
The Slasher: D, DF, F, Low
Talon takes his claws and slashed the air twice with them, this move will hit twice only in the air and will cause a temp stun when hit on the ground.
Brain Basher: D, U, Low
Talon jumps into the air and tries to land on top of his opponents head with his sharp claw pointing towards the very top of the opponents head. If the move connects then the opponent when perform a surprised animation. The strength of the button pressed determines the height of the move as well as how fast Talon falls onto his opponents head.
Face Ripper: F, B, HF + LF
Talon will try to grab onto his opponent. If he does he will jump on top of the opponents chest and will bite the opponents face multiple times before letting them go. After being let go the opponent will fall off their feet.
Finishers:
Shredder: HQ + LQ + HF, D, U, D
Talon will perform his frantic fury animation and will go over his opponent. His opponent will begin to use there surprised animation until Talon is finished after which the opponent will keel over and die. There are no mangled corpses in this version of the game.
Suicide:
Neck Snap: HQ + HF + LF, U, U, D
Talon puts his tail around his neck and violently jerks back his tail snapping his neck and killing him. Due to unfinished animations after Talon falls to the floor with his broken neck he will come back to life.
Ending:
Talon doesn't have any ending text in the ROMs. This is because of the games unfinished state.