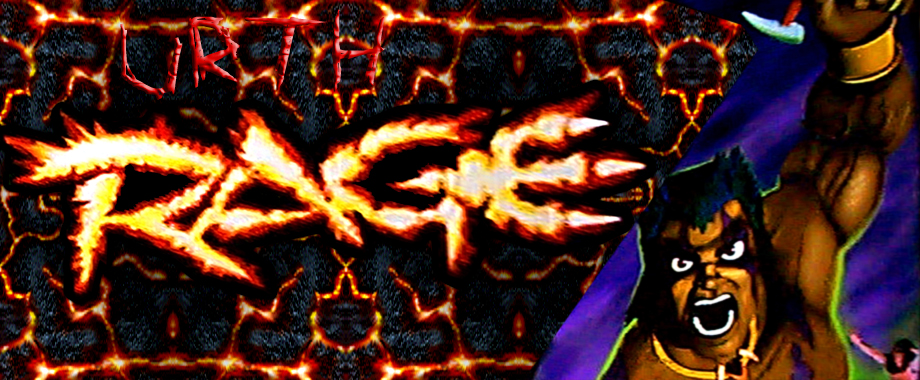 Back To Portal
Home
Games
MAME4Rage2
Glitches
Downloads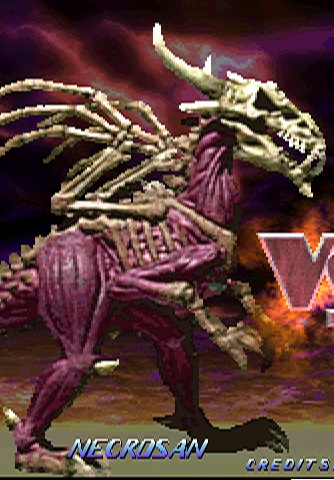 Name: Necrosan
Gender: Male
God of: Darkness
Avatar: N/A
Side: Destructive Dinos
Turf: Necrosan's Soul
Color: Bone White and Flesh Pink
Worshiper Clothing: N/A
Necrosan is the boss character for Primal Rage 2. He is the main antagonist for the games causing the events of the first game when he crash landed on the Earth turning it into the Urth. Necrosan looks like an undead Dragon skeleton or Dracolich but he is actually an alien known as a Necroid. He came to the Earth now Urth in order to use the humans as hosts for creating an army of Necroids to battle a higher power that they where losing against. Necrosan was meant to be a playable character too, but this is not in the prototype version without hacking the game.
Win Quotes:
Primal Rage 2 has win quotes for each character. These are all of Necrosan's win quotes:
YOU HAVE NO HOPE IN SUCCEEDING.
AFTER I TAKE YOUR LIFE, URTH IS MINE!
WHY FIGHT? DEATH IS INEVITABLE.
PUNY MORTAL! YOU'VE LOST YOUR LIFE!
PATHETIC. YOU CAME ALL THIS WAY ONLY TO FAIL!
YOU'RE WEAPON IS USELESS AGAINST THE GRIM REAPER!
EVIL WILL TRIUMPH OVER GOOD BECAUSE GOOD IS DUMB.
Special Moves:
Symbol Legend:
HQ: Button 1 | HF: Button 2 | HP: Button 3 | LQ: Button 4 | LF: Button 5 | LP: Button 6 | U: Up | F: Forwards | D: Down | B: Backwards
So for direction UF means "Up-Forwards", DB mean "Down-Backwards", etc.
Generic
Moves shared across all of the characters in Primal Rage 2.
Hyper Attack: HP+LP
Knockdown move, tosses the opponent into the air.
Taunt: Press Start
Causes the Rage meter to fully charge.
Grab Worshipper: D,D HF+LQ
Grab a worshipper to eat. Fully charges the Rage meter.
Grab Opponent: F+HP (When Close to Opponent)
A throw, this cannot be blocked.
Overhead Smack F+LP (When Close to Opponent)
An overhead attack used on an opponent blocking while ducking.
Big Jump: Charge D, U (Can be used in all jumping directions)
A big jump like in Primal Rage 1.
Rage Morphs
These are the Rage morphs that a character can use when the Rage meter is full.
Rage Morph A: HQ+HF+HP
Rage Morph B: LQ+LF+LP
Rage Morph C: D+HQ+HF+HP
Rage Morph D: D+LQ+LF+LP
Character Specific:
These are the moves unique to Necrosan.
Wing Stab: F, F, HQ + HF
Necrosan will throw his wings in front of him and shoot electricity from them to a great length. If the electricity is touched by the opponent it will cause a temp. stun.
Electric Shot*: D, DF, F, HQ or HF or HQ + HF (Cannot use HP)
Necrosan will bring his hands in front of him and brings the tips of his wings in front of him. Using the electricity from his hands and wings he will charge an electric shot of which he will shoot towards his opponent.
Vortex: D, D, HQ
Necrosan uses his hands to rip open a portal through space and time. This portal stays on screen for a couple of seconds and can absorb projectiles.
Shock Throw: F, B, HQ + LQ
Necrosan will use his wings to try and grab his opponent. If he is successful in grabbing his opponent he will shoot electricity from his eyes and into the opponent. No damage to the health bar is done but the stun meter is taken down by half. (The use of this move has a chance of breaking the graphics and gameplay of the game leaving nothing on screen but the background mask and the hud.)
Life Suck Throw: F, B, HF + LF
Necrosan will use his wings to try and grab his opponent. If he is successful in grabbing his opponent he will pucker his mouth and will begin to drain the life force of his oppponent. This move will hurt the player but Necrosan will not gain any health from this move, even if he losses health. (The use of this move has a chance of breaking the graphics and gameplay of the game leaving nothing on screen but the background mask and the hud.)
Necroid Flight*: (In the Air) D, D, LF
Necrosan will begin to flap his wings and can go around the sky. Necrosan can also attack from the sky but upon attacking he will fall back down to the ground. Necrosan has no limits on his flight and can fly off screen from the top or sides of the screen. If Necrosan is off screen and he attacks he will be reset to the ground on the x-position that he took flight from.
NOTE *:This symbol signifies that the move name is something I have come up with and is not the official name of the move.
Finishers:
Life Force Drain: LQ + HQ + HF , D, U, D or HQ + HF + LF , D, U, D or LQ + HQ + LF , D, U, D
Necrosan grabs his opponent and begins to suck the life force from his opponent until it is all gone. After which his opponent will dissolve into nothing while he laughs at their demise.
Suicide:
Head Rip: HQ + HF + LF, U, U, D
Necrosan puts his hands under his head and puts enough force to rip it off. After which he throws his head. Because this suicide is unfinished Necrosan's body will be replaced by his head.
Ending:
Having defeated the last of the opposition, Necrosan continues to prepare Urth for the arrival of his alien masters. All across Neo Urth, men and women alike are impregnated with his alien parasites. His victims live out their final days in agony before maggot-like spawn burst from their guts. The swelling armies of Necroids grow large as they feed upon the human populace. Strange alien cities are built over the human ones. Humans are but tiny slaves and tasty morsels. One day, a shadow falls over the alien cities, and the Necroids are all swept away, leaving none behind. The Necroids where grunts in a great galactic war, one which they were losing. The tribal masters fear the return of the Necroids--- but not as much as they fear an invasion of the Necroids' powerful enemies!