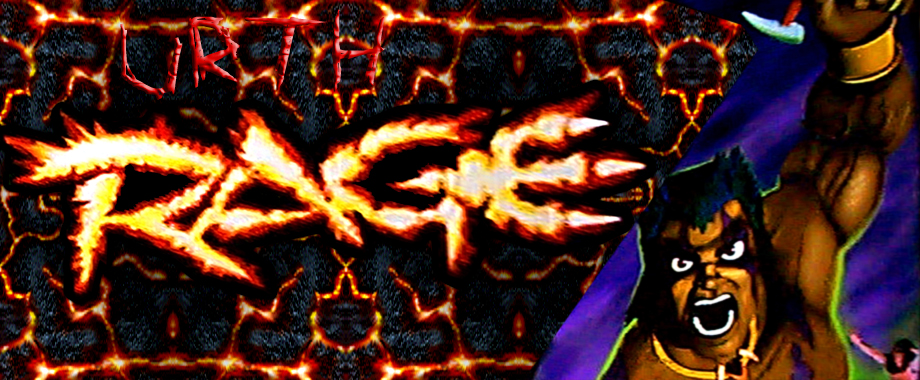 Back To Portal
Home
Games
MAME4Rage2
Glitches
Downloads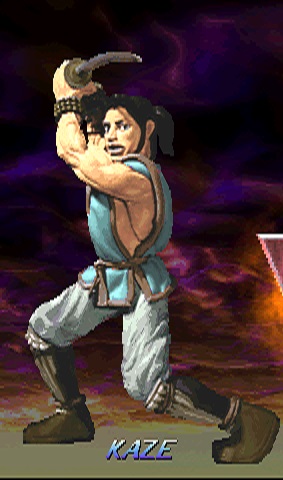 Name: Kaze
Original Name: Ronin
Gender: Male
Avatar of: Blizzard
Side: Virtuous Beasts
Turf: Blizzard's Haven
Color: Blue Samurai Outfit
Worshiper Clothing: N/A
Kaze is a playable character in Primal Rage 2. He is the avatar of Blizzard. He has the best combos in the game mostly due to the fact that he can freeze his opponents multiple times, he is the easiest character to get the 20 hit limit combo in the game. Kaze, like all of the avatars, has a alternate selectable version on the character select screen which allows Kaze to switch between himself and Blizzard by using the Rage Morph buttons.
Win Quotes:
Primal Rage 2 has win quotes for each character. These are all of Kaze's win quotes:
You nearly broke my concentration.
You're more of a 'Frozen One' than a Chosen One
Go meditate on your failure.
You must make your attacks flow.
Ice, ice, baby!
Walk the eightfold path, my friend.
See reality as it is.
Transient are conditioned things.
Observe the interdependence of all phenomena.
When this is, that is. This ceasing, that ceases.
What is the sound of a 20 hit combo?
Mere suffering exists, but no sufferer is found.
Special Moves:
Symbol Legend:
HQ: Button 1 | HF: Button 2 | HP: Button 3 | LQ: Button 4 | LF: Button 5 | LP: Button 6 | U: Up | F: Forwards | D: Down | B: Backwards
So for direction UF means "Up-Forwards", DB mean "Down-Backwards", etc.
Generic
Moves shared across all of the characters in Primal Rage 2.
Hyper Attack: HP+LP
Knockdown move, tosses the opponent into the air.
Taunt: Press Start
Causes the Rage meter to fully charge.
Grab Worshipper: D,D HF+LQ
Grab a worshipper to eat. Fully charges the Rage meter.
Grab Opponent: F+HP (When Close to Opponent)
A throw, this cannot be blocked.
Overhead Smack F+LP (When Close to Opponent)
An overhead attack used on an opponent blocking while ducking.
Big Jump: Charge D, U (Can be used in all jumping directions)
A big jump like in Primal Rage 1.
Rage Morphs
These are the Rage morphs that a character can use when the Rage meter is full.
Rage Morph A: HQ+HF+HP
Rage Morph B: LQ+LF+LP
Rage Morph C: D+HQ+HF+HP
Rage Morph D: D+LQ+LF+LP
Character Specific:
These are the moves unique to Kaze.
A Hailstorm Slices: Press any High Rapidly
Kaze starts to slash at his opponent. Depending on the button pressed Kaze will attack his opponent more.
A Gale Wind Pierces: D, F LQ OR/+ LF
Kaze will twirl and then attack his opponent. Depending on wherther LQ or LF is used Kaze will either slash at his opponent or stab his opponent.
Caught by the Wind: F, B HF+LF
A Frigid Mist Freezes if...: D, B High
Kaze will lift his sword the dragons tooth above his head as a blue aura engulfs it. If done to completion an ice blue aura will be over Kaze.
The Icy Lance Rises*: D, B Low
Kaze will take his sword and move it front of him before ending it with an upwards stab motion. If Kaze has an ice blue aura around him the final hit from this move will freeze the opponent and remove the ice blue aura.
The Icicle Drops*: U, D Low (In The Air)
Kaze lunches towards his opponent stabbing them in the air. Depending on the strength of the button pressed Kaze will jump higher before landing on his opponent. If Kaze has an ice blue aura around him this move will freeze the opponent and remove the ice blue aura.
*Will Freeze an Opponent when Empowered by Ice
NOTE *:Will freeze opponent if empowered by the mist.
Finishers:
Ice Sculpture: LQ + HQ + HF , D, U, D or HQ + HF + LF , D, U, D or LQ + HQ + LF , D, U, D
Kaze performs "The Sky Freezes Over" with it turning the opponent into a block of ice after wards Kaze will carve them into a sculpture one of the three sculptures can happen if you follow the commands correctly.

Lady Sculpture: Do Nothing
If the player does nothing Kaze will make a sculpture of a lady out of the ice block.
Area 51 Alien: Hold HQ
Kaze will sculpt an Alien from the Atari Games Arcade game Area 51.
Flamingo: Hold HF
Kaze will sculpt a flamingo
Suicide:
Sword Stab: HQ + HF + LF, U, U, D
Kaze will slash the air twice before having the dragons tooth telepathically move towards his gut in which Kaze grabs the sword and thrusts it into his gut killing him.
Ending:
Having defeated Necrosan, Kaze returns to his peaceful meditation. His followers are in awe of this living testament to the power and strength of the human will. Pestered by his worldly fame, Kaze disappears from his home one day, leaving his most prized possession: his mystical ice blade. Each year, the winter's wind whispers the rough Blizzard Canyon of his disappearance sounding like a thousand followers chanting his mantra: Kaze, Kaze, Kaze. And each year on that day, his mysticl sword disappears from its final resting place beneath a cleat crystalline ice monument in Kaze's honor, and reappears just as mysteriously, the very next day.