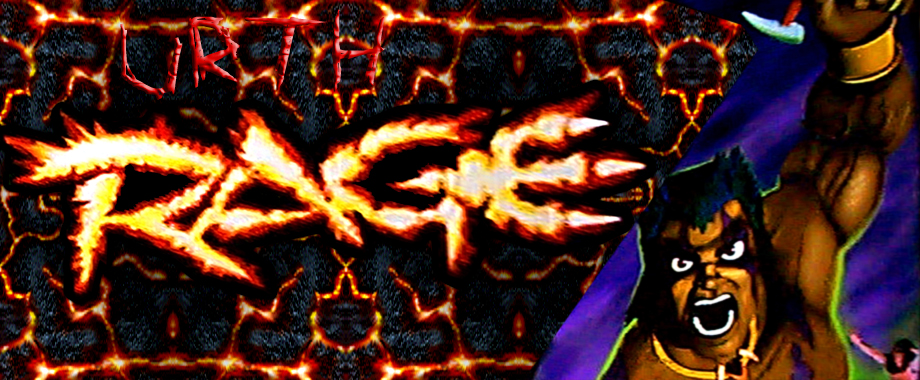 Back To Portal
Home
Games
MAME4Rage2
Glitches
Downloads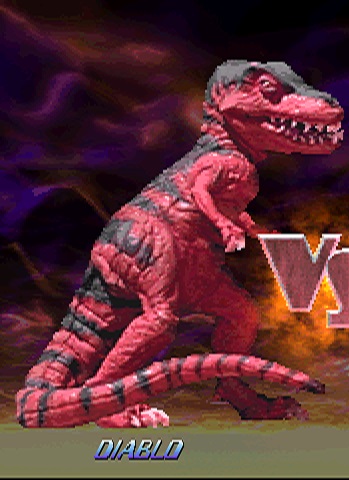 Name: Diablo
Gender: Male
God of: All Evil
Avatar: Sinjin
Side: Destructive Dinos
Turf: Abandon All Hope
Color: Red and Black
Worshiper Clothing: N/A
Diablo is a playable character in Primal Rage 2. He returns from his role in Primal Rage 1. Diablo has been given some new normals to further distinguish him from Sauron. Diablo also has all of his moves, he just had his torch incorperated into his grab instead of it being its own move. Diablo is the most unfinished of the playable cast in the game he doesn't even have a proper winning animation for when he conquers.
Win Quotes:
Primal Rage 2 has win quotes for each character. These are all of Diablo's win quotes:
Smoking is bad for your health.
I'm just too hot. and it's just too bad you're not.
Burn baby BURN!
Hey look! You're a flaming idiot! Get it? HEHEHE!
C'mon baby, light my fire!
I've got this burning desire...
98.6 212 451
Special Moves:
Symbol Legend:
HQ: Button 1 | HF: Button 2 | HP: Button 3 | LQ: Button 4 | LF: Button 5 | LP: Button 6 | U: Up | F: Forwards | D: Down | B: Backwards
So for direction UF means "Up-Forwards", DB mean "Down-Backwards", etc.
Generic
Moves shared across all of the characters in Primal Rage 2.
Hyper Attack: HP+LP
Knockdown move, tosses the opponent into the air.
Taunt: Press Start
Causes the Rage meter to fully charge.
Grab Worshipper: D,D HF+LQ
Grab a worshipper to eat. Fully charges the Rage meter.
Grab Opponent: F+HP (When Close to Opponent)
A throw, this cannot be blocked.
Overhead Smack F+LP (When Close to Opponent)
An overhead attack used on an opponent blocking while ducking.
Big Jump: Charge D, U (Can be used in all jumping directions)
A big jump like in Primal Rage 1.
Rage Morphs
These are the Rage morphs that a character can use when the Rage meter is full.
Rage Morph A: HQ+HF+HP
Rage Morph B: LQ+LF+LP
Rage Morph C: D+HQ+HF+HP
Rage Morph D: D+LQ+LF+LP
Character Specific:
These are the moves unique to Diablo.
Flaming Shot: D, DF, F, High
Diablo shoots a fireball from his mouth towards his opponent. Depending on the strength of the button pressed will determine the speed of the fireball
Hot Foot: D, DB, B, High
Diablo shoots a stream of fire onto the floor towards his opponent. If touched the opponent will be roasted and fall off their feet.
Ashes to Ashes: D, D, LQ (LEFT) or LF (RIGHT) or LP (Same Spot)
Diablo will teleport through a fiery entrance and exit. Like Primal Rage 1 this teleport when done too close to the opponent will roast them.
Mega Lunge: D, DF, F, Low
Diablo runs towards his opponent with a large amount of speed and will stop and thrust his head upwards. Depending on the strength of the button pressed will determine how far Diablo will run before thrusting his head upwards.
Pulverizer: D, U, LQ + LF
Diablo will jump into the air and try to land on his opponent. If he does land onto his opponent then he will jump up and down on top their body each time he falls on top of his opponent a large flame can be seen coming out of Diablo.
Barbeque Grab: F, B, HF + LF
Diablo will use his tail to try and grab his opponent. If he does grab his opponent Diablo will perform the torch move from Primal Rage 1 into the opponents face roasting them.
Finishers:
Like many characters in Primal Rage 2, Diablo doesn't have a programmed finisher. This is because of the games unfinished state.
Suicide:
Disappointment: HQ + HF + LF, U, U, D
Diablo will look down towards the floor and shake his head in disappointment. This suicide is unfinished and it is hard to determine what would have happened during or after the animation that is performed. I believe he would of been engulfed in flames.
Ending:
Diablo has no ending in the ROMs. This is due to the games unfinished nature.