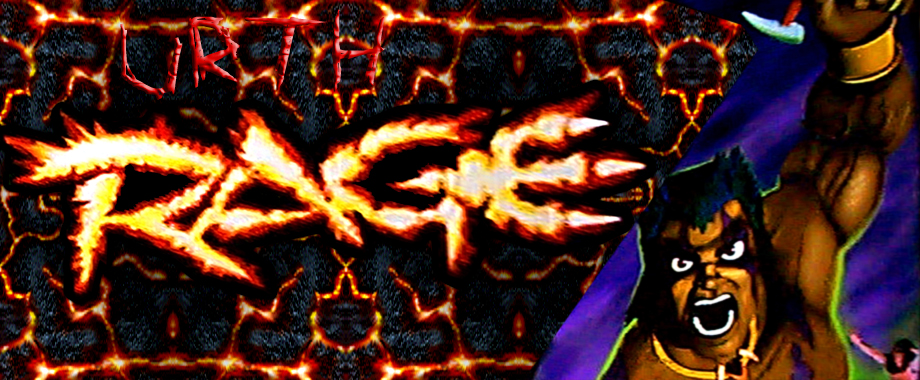 Back To Portal
Home
Games
MAME4Rage2
Glitches
Downloads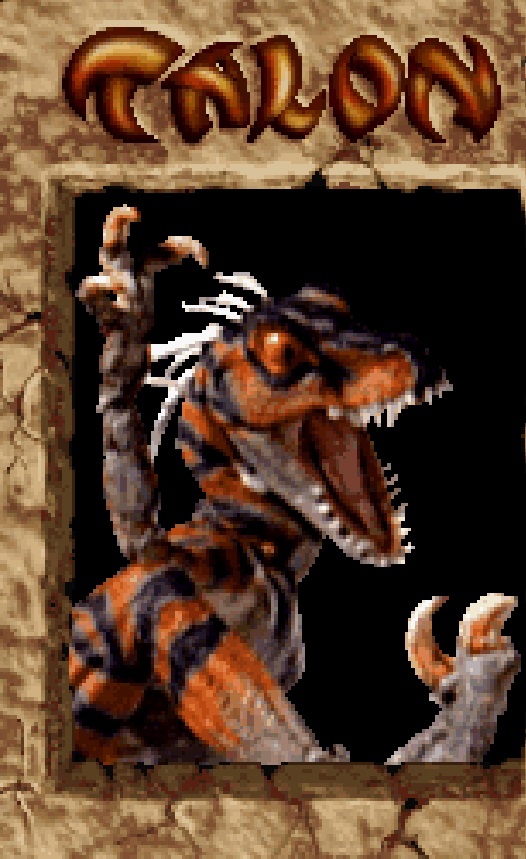 Name: Talon
Gender: Male
God of: Survival
Side: Virtuous Beasts
Turf: The Strip
Color: Orange and Black Stripes
Worshiper Clothing: Grey
Talon is a playable character in Primal Rage. He is a Velociraptor/Deinonychus of the game. He is the God of survival. Talon has the fastest speed in the game and is the best to rushdown opponents. He has no projectiles but he has very fast specials, he even has the ability to run, something no other character can do. When the cataclysms happened his island moved towards the mainland and with the arrival of the other gods he feared the worst for his tribe. He only wishes to conquer Urth so that he may protect his tribe from the other gods.
Special Moves:
Symbol Legend:
1: Button 1 | 2: Button 2 | 3: Button 3 | 4: Button 4 | U: Up | F: Forwards | D: Down | B: Backwards
So for direction UF means "Up-Forwards", DB mean "Down-Backwards", etc.
Pounce and Flip: Hold 2+3 F, D, D-F
Talon runs to his opponent and then latches onto them he slashes them with twice from his feet claws and then flips hitting him again.
Brain Basher: Hold 2+3 B, U, F
Talon will flip into the air and then he will smack into his opponents head with his talons spread out and smashes into there head. After this hitting 3+4 is what is used most of the time after using this move (especially when the CPU uses him).
Frantic Fury: Hold 1+4 D, F
Talon will begin to spin very fast and causes him to become a blur. As long as the buttons are held he will inch towards his opponent for a short time (he will stop if he does not hit his opponent). This move launches the character into the air.
Slasher: Hold 1+3+4 D, F
Talon inches towards his opponents slashing the air with his claws if he hits his opponent they will get hurt twice.
Face Ripper: Hold 2+4 D, F
Talon's grab. He will pull out one of his hands trying to touch his opponent, if he does touch his opponent he will latch onto them and begin to bite there face.
Jugular Bite: Hold 2+4 B, F (Must be used during a combo or opener to a combo)
Talon will jump towards his opponents neck and bite down onto there neck he then rips out a chunk of meat from them. This move is considered two hits.
Running: Hold 1+4 and then press B or F
This move allows Talon to run back and forth.
Chomp a Human: Hold all four buttons F, D
Talon will swipe his hand across the floor. If a human is in his reach he will grab them and then eat them and regain some health. (Can also hurt the opponent).
Finishers:
Heart Wrencher: Hold 1+3+4 F, D, B, U
Talon's opponent will fall down like normal and then Talon will then walk up to his downed opponent and begin to roar. He will then take his toe claw on his foot to cut open his opponents body, he will roar some more and then pull out the opponents beating heart, he will look at it until he eats it and then will begin to roar again.
Shredder: Hold 1+4 F, D, B, U
Talon will do a very long frantic fury in which he will go over his opponent and begin to rip their flesh off. If playing on version 2.3 the opponent after would appear mangled up bleeding all over, however in version 1.7 the opponent will fall down like normal.
Stampede (Version 2.3 Only): (NEED COMBO)
Talon's opponent will fall like normal but Talon will then make a screeching sound looking off screen. From the side he screeched some small raptors will walk over to the opponent and shred them open and walk off screen.
Endings
Final Version: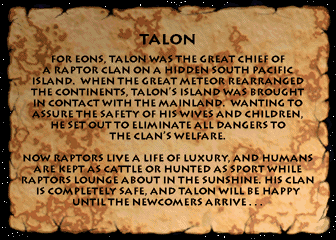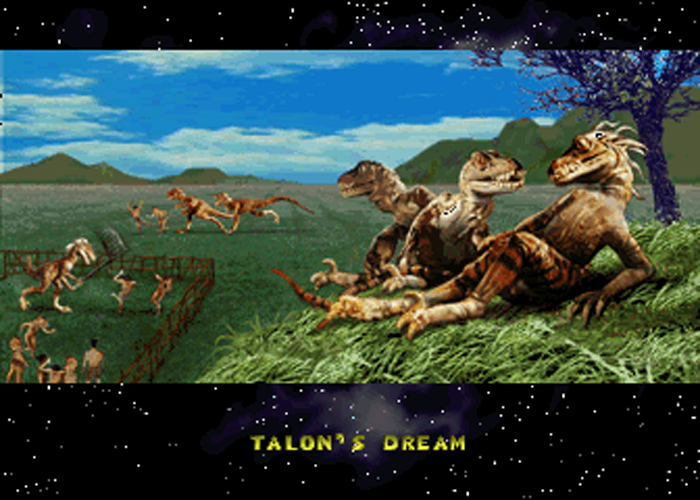 Prototype Version:
When the cataclysms brought his South Pacific island into contact with the mainland, Talon, chief of the lost raptor clan, knew there would be changes. Wanting to assure the safety of his wives and children, he set out to eliminate all dangers to the clan's welfare. Now Raptors live a life of luxury, and humans are kept as cattle or hunted as sport while Raptors lounge about in the sunshine. His clan is completely safe, and Talon will be happy until the newcomers arrive...